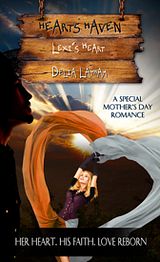 LEXI'S HEART
Forty-three-year-old Lexi Carlisle's abusive marriage ended three years ago. Deeply scarred by the experience, and helplessly watching her beloved mother succumb to Alzheimers, Lexi is devastated. After selling her fancy home, she rents a cottage in Heart's Haven, a special place unlike any other. Slowly learning to live again, she despairs of ever delivering the message of love that burns within her heart for her ever-worsening mother. But Mitch Gaynor, a handsome Christian author, reminds Lexi that with God all things are possible, planting within her battered and distrustful heart the seed of hope for a miracle. But can she open her fortressed heart to God? And is Mitch a part of His plans for her future?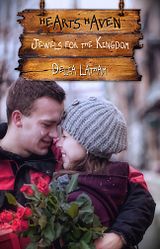 JEWELS FOR THE KINGDOM
Pia Peretti's past could destroy her future. Thanks to her pre-Christian lifestyle, she can't marry a believer, and she won't marry a non-believer. Minister David Myers wants to help Pia release her guilt and trust that God has forgiven her...but the young minister is working through his own trial of faith.
After a failed counseling session with a wounded soul, David's confidence is shaken. He accepts a new pastorate, and moves to Angel Falls to find a haven for his wounded heart.
Is it possible these two hurting hearts are meant to mend each other's brokenness with some divine intervention?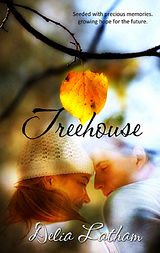 TREEHOUSE
Tim Kerschner's attachment to a solitary aspen tree on property he inherits goes much deeper than aesthetics. Can he make landscape architect Ryann Dean understand his seemingly unreasonable refusal to let her chop down one tree in a forest of them?
Ryann loves her job in Bliss, Oregon. Junior high teacher Tim Kerschner, however, she'd be happy to have never met. The man's handsome face loses any appeal in light of his rudeness, arrogance, and obvious inclination to violence—the latter of which Ryann despises for reasons close to her heart.
A visit to what lies within the branches of the controversial tree could give them both a whole new outlook on life…and on each other.
GYPSY'S GAME
Gypsy Lovell stands to inherit an enormous amount of money from a father who never gave her anything but a ridiculous name. Even now, he doesn't make it easy. A stipulation in the man's will demands that Gypsy be married in order to claim what is hers.
Desperate for the monetary windfall that could save her ailing mother's life, Gypsy visits a Christian dating agency, hoping to find a temporary husband. Someone easy to handle for the required six months, and easy to get rid of when she no longer needs him.
Jal Garridan is neither of those things, but he's willing to take on the challenge presented by the beautiful stranger—on his own terms.
What Gypsy doesn't know is that Solomon's Gate is a dating agency with a Divine connection. What she finds there may save more than her mother's life. It may save Gypsy's soul.
KYLIE'S KISS
On a dare, Kylie Matthews lands smack in the middle of Solomon's Gate—Castle Creek's new Christian dating agency—and she finds herself revealing exactly what she's waiting for in a relationship: "The kiss that steals my breath away."
What she doesn't reveal is her lack of self-esteem or her irrational reaction to facial disfigurement. Neither is applicable to her quest to find the perfect match. But that seemingly superficial malady becomes all-important when her first agency-arranged date is Rick Dale—a man who is everything Kylie is searching for. He's handsome, smart, fun. Rick has it all…including an angelic six-year-old daughter with severe scarring on one side of her face.
Hard at work founding a therapy camp for young female victims of deformity or disfigurement, Rick wants Kylie to be a part of those plans. She'd love to say yes…but how can she, when every contact with the facility's guests—and Rick's own daughter—will make her violently ill?
 Kylie is ready to admit their relationship doesn't stand a chance, but she's forgotten that God makes a way where there seems no way.
DESTINY'S DREAM
Is a little respect too much to ask at a parent's funeral?
Apparently it is for Destiny May. Clay Gallagher is built like a small mountain and far more vocal than is fitting when he shows up late to her mother's "going away party." When it turns out he's not even at the right funeral, Destiny demands retribution in the form of an escape from the day's dreary proceedings. Spending time with a handsome stranger who makes her laugh is more therapeutic than fighting with her overbearing family.
Clay finds Destiny beautiful, charming...and intelligent. So why is she stubbornly determined to open a Christian dating service? Clay has little respect for such a frivolous profession, and doesn't think the small, conservative town of Castle Creek will welcome such a progressive business. But when Destiny is threatened by an anonymous caller who deeply resents her and what she does for a living, Clay makes it his business to keep the saucy redhead out of harm's way.
Trouble is, spending time in her company weakens his defenses, and Destiny may be the one thing Clay can't escape...if he even wants to.
YESTERDAY'S PROMISE
A whirlwind romance amidst the natural splendor of Yosemite National Park. A spur-of-the-moment wedding. A young bride who awakens the morning after to find her new husband gone with the mountain wind.
Songbird Hannah Johns supports the child born of that ill-fated union by singing in a dinner lounge. Her dream of someday owning the elite establishment and turning it into a venue more suited to her Christian values is shattered when an unexpected transaction places it in the hands of Brock Ellis, the handsome biker who abandoned her in their honeymoon suite.
Ensuing sparks fly high, revealing buried secrets and forgotten pasts. Seeking to find peace with her painful past, Hannah returns to Yosemite, only to have Brock show up hard on her heels. Back where it all began, she finds herself in danger of losing her heart yet again to the man who shattered it the first time around.
A man's eyes are the windows to his soul … if he has one.

Deep in the darkness of a Depression-era night, a man addicted to alcohol commits an unspeakable crime to obtain it. His vile action impacts the lives of two entire families, and two decades will pass before the horrible wrong begins to be made right again.

Two young women – strangers to each other – unknowingly enmeshed in a Pandora's Box of secrets that could prevent them from finding happiness with the men they love. Two adoring mothers who know more than they are willing to say. A newsman with a story he cannot tell.

What is their connection, and who is the golden-eyed stranger who moves in the shadows of their broken lives?