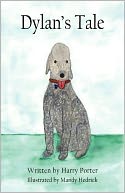 I'm delighted that new release, Dylan's Tale has picked up its second 5 star review in two days, this time from Glenda Cates at Goodreads. This is Glenda's review:
I Loved this book. It was everything I expected and so much more. I look forward to reading the stories of the other puppies as well. I also Loved knowing there rescue dogs. My son who is 3 and my husband also Loved the book just as much as I did. I will be buying these as gifts as I think anyone who has a pet should read them as they show us how to treat our animals.
The book can be obtained from
Barnes & Noble
and many other book sellers, and the first book in the series, the award winning Tilly's Tale is available from all the same resources.