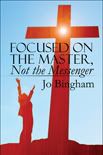 Well, it looks like the cover to my book has been designed. I got an email notifying me that it was completed on May 18th. I thought I would get to SEE the cover, at the very least. But hey, it's not the cover that matters, just getting the words out. I was able to take the cover from the website along with some other information, such as the release date which is JULY 13, 2009 and that it will be available in soft cover for $16.95 (USD). It can be purchased now using the above link embedded in the picture of the book but it will take 3-4 weeks before arriving due to the fact that it is a pre-purchase.
Here is what the back cover should read:
There is nothing more powerful than the message of hope. But what happens to that hope when the message is delivered to us by a double-agent (by someone who speaks of the love of Christ but whose actions show otherwise)? Do we reject the message? Or do we receive the gift and discard the packaging to reveal the treasure beneath? The choice is ours.

In a perfect world, we would not even have to contemplate these matters. Unfortunately, though, we do not live in a perfect world. But we do serve a perfect God, One who remains holy and pure despite of how man may represent Him.

God is God and man is man. This is a story of how keeping that in mind has made all the difference in one child's life, as she has grown past the hurt by remaining focused on the master, not the messenger.