Broken But Not Bound is an inspiring true story of how one woman is using her own experience as a child who was molested to reach out to others who have endured similar pain. It's a powerful tale about the strength and resilience of the human spirit. Child molestation transcends race, class and religious beliefs. Statistics show 1 in 4 young girls and 1 in 6 boys are sexually assaulted by the age of 18. The rate of childhood molestation has increased 30% in the last two decades. 75% of the perpetrators are men – fathers, stepfathers, uncles, brothers – someone likely known to the child as a protector, someone they love and trust.
In Broken But Not Bound, author April Mason clearly articulates how the soul, even in the midst of confusion, anger and misery, can rebound from tragedy and remind you of your inherent greatness. Her descriptive accounts and self analysis of the life she once endured helps to reassure others they are not alone, and more importantly, they too can overcome their pain and lead productive and successful lives.
Broken But Not Bound is a vivid illustration of the power of God's love to bring you through the fire and deliver you into a world of self-love and peace.
April Mason is an Entrepreneur, Women's Advocate, Inspirational Speaker and Philanthropist. She has dedicated her life to helping others to "release the past and embrace the future". Ms. Mason is the founder of The Broken But Not Bound movement, which helps victims free themselves from the bondage of incest, sexual and physical abuse, and equip them with the tools to execute their vision and achieve their entrepreneurial goals. Ms. Mason currently resides in California.
For speaking engagements, book signings, seminars, etc, contact Bookings at (800) 434-7195 ext. 2 or booking@AprilMason.com www.brokenbutnotbound.com
YOU MAY BE BROKEN BUT NEVER BOUND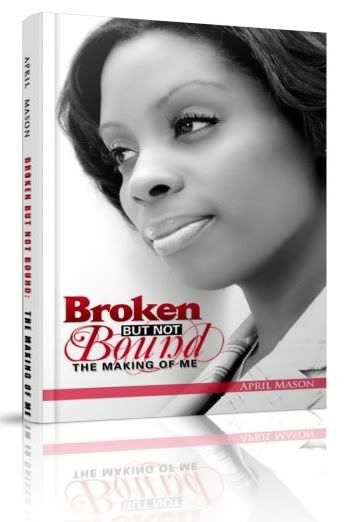 WWW.APRILMASON.COM